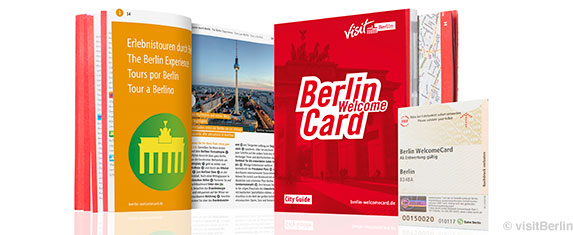 כרטיסים ניתנים להחזר

השוואת מחירים מובטחת

רב מכר









Berlin WelcomeCard
Enjoy unlimited use of public transportation with a Berlin WelcomeCard! With this card you get discounts of up to 50% at many museums, guided tours, restaurants, theatres and attractions. When it comes to travelling, you choose the zones (either AB or ABC) and for how long you wish to use the Berlin WelcomeCard.
הזמינו עכשיו
פַנטַסטִי:
4.5
– 373

אנו ממליצים
כרטיסים ניתנים להחזר כרטיסים ניתנים להחזר
Refundable up to 48 hours before performance date. A cancellation fee of up to 20% pr. ticket may apply
השוואת מחירים מובטחת השוואת מחירים מובטחת
If you find a better price for this product within 48 hours of completing your booking, we will refund the difference in price in full.
מה נכלל בהצעה?
- Unlimited use of public transportation in either fare zones Berlin AB or zone ABC.
- Card valid for either 48 or 72 hours - or 4, 5 or 6 days.
- Up to 50% discount.
- A pocket guide with tour suggestions and a city map.
- Bring up to 3 children of the age of 14 and under - they travel free of charge.